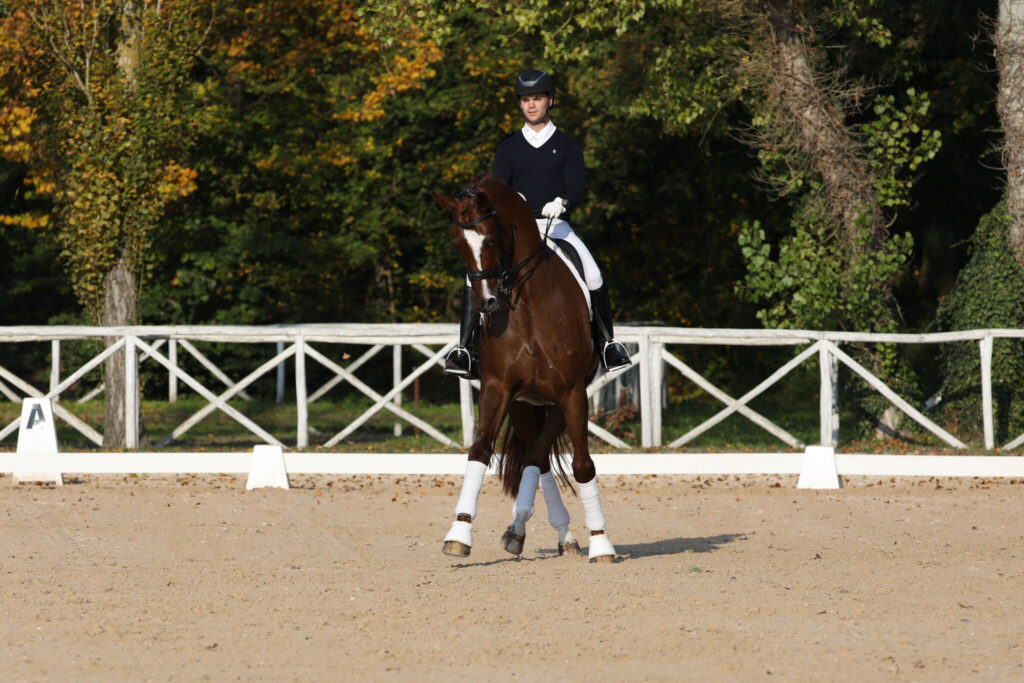 Sold
Bartabas is a beautiful chestnut horse that will have certainly a lot of future in the sporting career.
This elegant and elastic horse has already taken part in International competition 7 years old level with placement in all of them. Bartabas is ready to debut in St. George and Intermedia I.
He has a really impressive, smooth and well-balanced walk. His trot is amazing with very correct and light movements. The canter is dynamic with well executed flying changes.
Bartabas is a lovely horse who correctly executes every rider's requests. Despite his height, he is kind and suitable for beginners.
Bartabas's sire is Blue Hors Romanov, one of the most interesting performer stallions. Blue Horse Romanov was born in 2000, he is the son of Rohdiamant and the brother of Eremo del Castegno. Blue Hors Romanov was a reserve for the London Olympics. Under the saddle of World Champion Edward Gal, Romanov was named stallion of the year in 2011 and he is Elite in Denmark. His sons have already won several Championships.
His dam, Denirels, is an award- winning mare in Hannover and is the daughter of the great De Niro, stallion of the year in Hannover in 2008, international winner and father of 6 horses qualified for the London Olympics. This maternal line has also produced important stallion such as Welton, Rapallo, Montebellini and San Remo.
Genealogy
Swipe left or right to scroll the full genealogy
Father:
Blue Hors Romanov

Rohdiamant
Rubinstein I
Elektia V
Rumirell
Grundstein II
Ruling Action

Mother:
Denirels

De Niro
Donnerhall
Alicante
Libelle
Lauries Crusador XX
Aktuelle
Ask information about BARTABAS