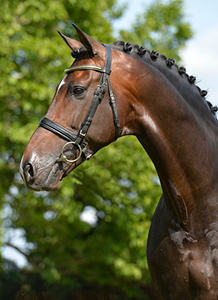 Zack produces a particularly high quality offspring.
In 2017 its biggest offspring started in Grand Prix, also internationally. Its daughter Skovens Tzarina (Don Schufro) was three years old Danish champion and also the champion of Herning's dressage horses was by Zack: Zancor (v. Solos Landwind).
Many of these sons made their Grand Prix debut: Glock's Zonik, Blue Hors Zepter, Arietta Klintgaard. Blue Hors Zee Me Blue, Blue Hors Zatchmo and the triple world champion Sezuan are the children of Zack who have been successful in the small Tour.
Genealogy
Swipe left or right to scroll the full genealogy
Father:
Rousseau

Ferro
Ulft
Brenda
Zsuzsa
Romer
Landy

Mother:
Orona

Jazz
Cocktail
Charmante
Karona
Belisar
Farona
Ask information about BLUE HORS ZACK