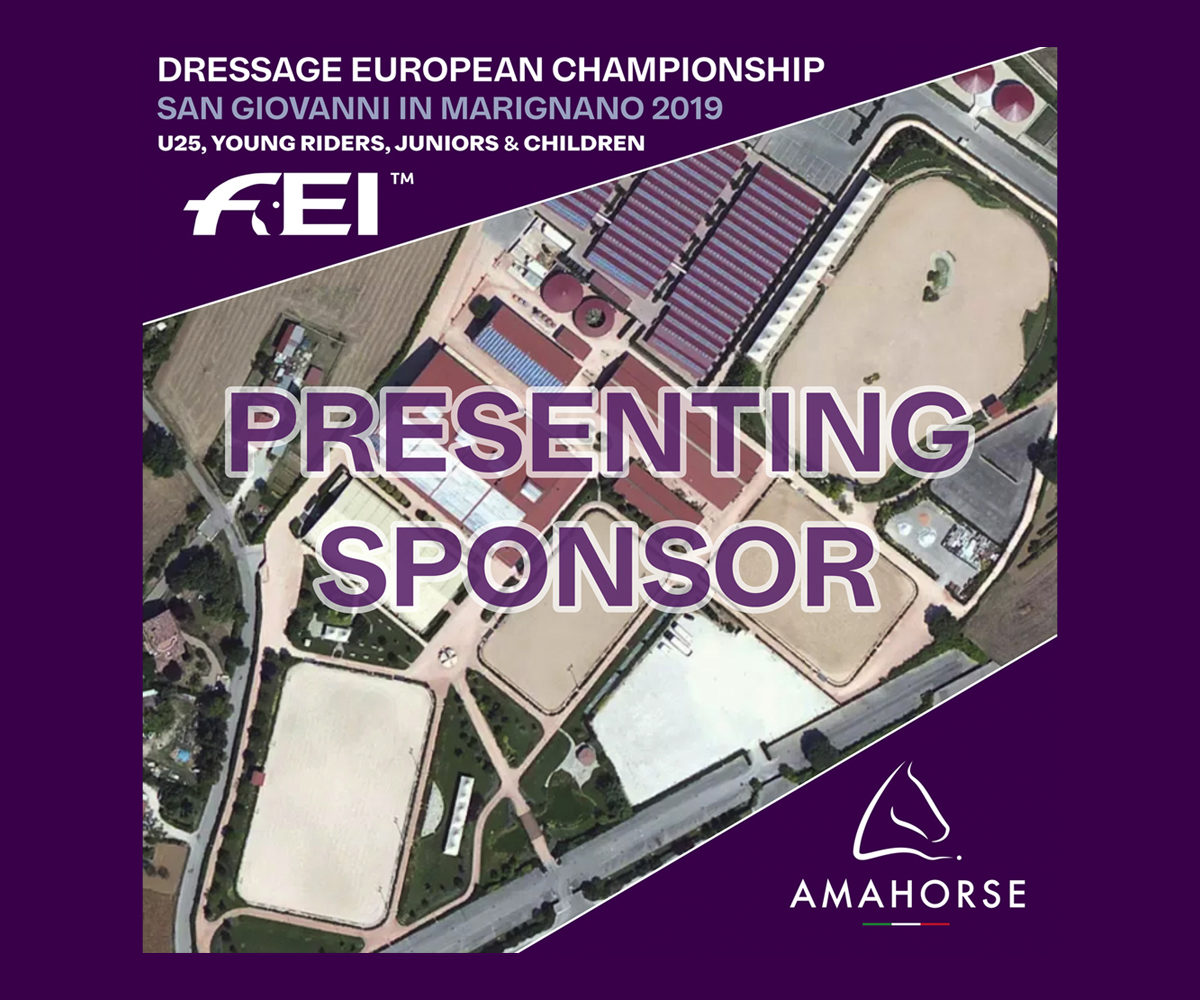 Sponsor of Italian Excellence to Return at a Great International Level
There are only thirteen days left until the 2019 European Youth Dressage Championships and the Italian Federation is once again becoming a major player on the international scene with the organization of major sporting events and with the WEG 2022 nomination. The Nations Cup of Eventing was hosted in an extraordinary location in June 2019 in the renewed structure of Pratoni del Vivaro. The CSIO in Piazza di Siena, in organizational synergies with CONI and with new world-class Partners, had a significant relaunch with a return to the tradition and the renewed scenario of Villa Borghese. The Global Champions Tour organized by Ian Tops, Marco Danese and Eleonora Di Giuseppe, is confirmed in Italy as an unmissable event in September on a spectacular stage, granted by CONI, of the Stadio dei Marmi. The Fise, together with highly qualified partners, intends to organize again the World Championships of all the FEI Disciplines in 2022, after having organized an unforgettable edition together with the Riffeser Group in 1998. In recognition of the great organizational skills, tested over the years, the FEI has assigned to our country the 2019 edition of the European Youth Dressage Championships of all age levels (Under 25, Young Rider, Juniors and Children). The President of the Fise, Avv. Marco di Paola, and the entire Federal Council have decided to entrust this task to the Organizing Committee of the Horses Riviera Resort of San Giovanni in Marignano. The organizers, Riccardo Boricchi and Carlo Bernardini, have embarked on this new adventure that has already made them protagonists of many high-level international events, not only at the equestrian center of San Giovanni in Marignano but also at the equestrian center of Arezzo, in particular in 2014 with the organization of the European Dressage Junior and Young Rider Championships. In 2019 it is the first time ever in Europe that the Championship is organized with all four age levels, reaching record numbers of almost 250 pairs and 26 nations. But, to realize the dreams of every sportsman, huge human and economic resources are indispensable, which only the passion and involvement of important entrepreneurs can make feasible and concrete. Before the definitive awarding of this event by the FEI, Riccardo Volpi with AmaHorse, formerly FISE Institutional Sponsor, believed and supported the initiative with the same enthusiasm with which he manages his companies that represent the excellence of Italian products (AmaHorse) and his breeding of dressage horses at Fonte Abeti in the heart of Italy. AmaHorse, together with Cavalleria Toscana, has enriched the event with the organization of the equestrian show of the Opening Ceremony, which will reveal the extraordinary adventure of friendship between man and horse over the centuries, by Bartolo Messina, directed and presented by Nico Belloni. "During the night show on July 23rd" – states Riccardo Volpi – "we will show you some of the best dressage horses from Fonte Abeti Breeding program, raised and trained every day by a team of very young riders from all over Europe."
AmaHorse is one of the 'Italian Excellences' we can be proud of because it has long been a leading company in the production and distribution of clothing and accessories in the equestrian world.
Born in 1991 as Umbria Riding by Mr. Riccardo Volpi, in a few years the company became a landmark for Italian and international riders, thanks to a dynamic and professional team.
With Acavallo's acquisition, an innovative and Italian brand of technical accessory production for riding, in September 2018 Umbria Equitazione changed names to become Amahorse Trading srl.
Amahorse's Italian factories produce artisanal items of equestrian tradition.
Thanks to a wide choice of products available today, Amahorse is able to deliver them in 24/48 hours throughout Italy and Europe.
"I immediately joined the initiative promoted by FISE" – concludes Riccardo Volpi – "to encourage the organization of this event in which the best young people of the discipline from all European countries participate. I believe that the evolution of equestrian sports starts from today's young athletes who can become the great professionals of tomorrow and it is precisely on them that we must invest more, both as a company and as a great fan of horse riding."